Apple Remote
Control your Mac, iPod, or iPhone from afar with the sleek aluminum Apple Remote. Play, pause, adjust volume, move forward and back, and access menus while playing music and video.
Close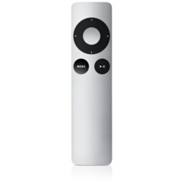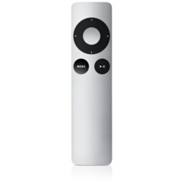 Overview
Apple Remote with iPod and iPhone
If you connect your iPod to a home stereo, powered speakers, or TV set, the Apple Remote lets you experience your songs, slideshows, and more from across the room. Plug your iPod into the Universal Dock and choose a playlist, slideshow, or video. Then sit back, relax, and enjoy. Ready to move on to the next song? No need to get up. Just press the Next button on the Apple Remote. Getting a call on your iPhone? Press Pause, then pick up where you left off.
The Apple Remote requires the iPod Universal Dock and any iPod with a dock connector or any iPhone.
Apple Remote with Mac
The Apple Remote gives you total command of your music, photos, videos, and DVDs from anywhere in the room. It works with Front Row — a menu-based, full-screen interface — to make accessing the digital content on your Mac as simple as navigating your iPod. When you press the Menu button, your desktop fades and the sleek Front Row interface takes its place to give you control over your music in iTunes, your photos in iPhoto, the videos in your Movies folder, and your DVDs. Turn up the volume. Shuffle. Skip to the next chapter on your DVD. Play a slideshow, a home movie you made in iMovie, even a movie trailer.
Compatible with Apple products introduced in 2005 or later that have a built-in infrared (IR) receiver.