Technical Specifications

In the Box
iMac
Apple Keyboard
Mighty Mouse
Apple Remote
Power cord
Install/restore DVDs
Printed and electronic documentation

Processor and memory
1.83GHz or 2GHz Intel Core Duo processor
2MB shared L2 cache at full processor speed
667MHz system bus
512MB of PC2-5300 (667MHz) DDR2 SDRAM expandable to 2GB
Storage
160 or 250GB 7200-rpm Serial ATA hard disk drive
8x SuperDrive (DVD+R DL/DVD±RW/CD-RW) installed; writes DVD+R DL discs at up to 2.4x speed, writes DVD-R and DVD+R discs at up to 8x speed, writes DVD-RW and DVD+RW discs at up to 4x speed, reads DVDs at up to 8x speed, writes CD-R discs at up to 24x speed, writes CD-RW discs at up to 8x speed, reads CDs at up to 24x speed

Communications
Built-in 54-Mbps AirPort Extreme Card (802.11g standard)
Built-in Bluetooth 2.0+EDR (Enhanced Data Rate) module
Built-in 10/100/1000 Gigabit BASE-T Ethernet (RJ-45 connector)
Works with 56K V.92 Apple USB Modem (sold separately)
Display
Built-in 17-inch (viewable) widescreen or 20-inch (viewable) widescreen TFT active-matrix liquid crystal display
Millions of colours at all resolutions
Typical viewing angle:

17-inch model

140° horizontal
120° vertical

20-inch model

170° horizontal
170° vertical

Typical brightness: 250 cd/m (17-inch model); 280 cd/m (20-inch model)
Typical contrast ratio: 500:1 (17-inch model); 800:1 (20-inch model)

Graphics and Video
ATI Radeon X1600 graphics processor using PCI Express
128MB of GDDR3 video memory
Mini-DVI output port with support for DVI, VGA, S-video and composite video connections via adaptor2
Built-in iSight camera
Support for external display in extended desktop and video mirroring modes

Digital resolutions up to 1920 x 1200
Analog resolutions up to 2045 x 1536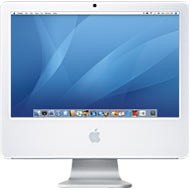 Electrical and environmental requirements
Meets ENERGY STAR requirements
Line voltage: 100-240V AC
Frequency: 50Hz to 60Hz, single phase
Maximum continuous power: 180W
Operating temperature: 10° to 35° C (50° to 95° F)
Storage temperature: -40° to 85° C (-40° to 185° F)
Relative humidity: 5% to 95% non-condensing
Maximum altitude: 3,000 m (10,000 feet)
Size and weight (17-inch)
Height: 43.0 cm (16.9 inches)
Width: 42.6 cm (16.8 inches)
Depth: 17.3 cm (6.8 inches)
Weight: 7 kg (15.5 pounds) 4
Size and weight (20-inch)
Height: 47.2 cm (18.6 inches)
Width: 49.3 cm (19.4 inches)
Depth: 18.9 cm (7.4 inches)
Weight: 10 kg (22 pounds) 4
Peripheral connections
Two FireWire 400 ports; 8 watts shared
Total of five USB ports: three USB 2.0 ports (up to 480 Mbps) on computer, two USB 1.1 ports on keyboard
Audio
Built-in stereo speakers
Internal 12-watt digital amplifier
Headphone/optical digital audio output
Audio line input
Built-in microphone
Software
Mac OS X v10.4 Tiger (includes Spotlight, Dashboard, Mail, iChat AV, Safari, Address Book, QuickTime, iCal, DVD Player, Xcode Developer Tools)
iLife '06 (includes iTunes, iPhoto, iMovie HD, iDVD, iWeb, GarageBand), Microsoft Office 2004 for Mac Test Drive, iWork (30-day trial), Big Bang Board Games, Comic Life, OmniOutliner and Apple Hardware Test
Front Row
Photo Booth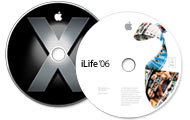 Configurations
17-inch iMac
20-inch iMac
Processor
1.83GHz Intel Core Duo
2.0GHz Intel Core Duo
L2 Cache
2MB Shared
System bus
667MHz
Memory
512MB of 667MHz DDR2 SDRAM (PC2-5300), supports up to 2GB
Hard drive
160GB Serial ATA 1; 7200 rpm
250GB Serial ATA 1; 7200 rpm
Optical drive
Slot-loading 8x SuperDrive with 2.4x Dual Layer burn (DVD+R DL/DVD±RW/CD-RW)
Display
17-inch (viewable) widescreen TFT active-matrix LCD, 1440 x 900 pixels, millions of colours
20-inch (viewable) widescreen TFT active-matrix LCD, 1680 x 1050 pixels, millions of colours
Video camera
Built-in iSight
Graphics
ATI Radeon X1600 with 128MB GDDR3 memory
ATI Radeon X1600 with 128MB GDDR3 memory, with upgrade option to 256MB GDDR3 SDRAM
Ports
Two FireWire 400 ports; three USB 2.0 ports, two USB 1.1 ports (on keyboard); mini-DVI port; DVI output 2; VGA output 2; S-video and composite video output 2
Audio
Built-in stereo speakers, built-in microphone, headphone/optical digital audio output, audio line in
Networking
Built-in 10/100/1000BASE-T (Gigabit)
Wireless
Built-in 54 Mbps AirPort Extreme Wi-Fi (802.11g) 3; built-in Bluetooth 2.0+EDR (Enhanced Data Rate) module.
Hardware accessories
Apple Remote, Apple Keyboard, Mighty Mouse
Pris
incl. moms
DKK 10.799,00
DKK 13.999,00
Options

Configure to Order
Graphics memory upgrade to ATI Radeon X1600 with 256MB VRAM (20" only)
250GB hard drive (17" upgrade)
500GB hard drive (20" upgrade)
Apple mini-DVI to DVI Adaptor
Apple mini-DVI to VGA Adaptor
Apple mini-DVI to Video Adaptor
Apple FireWire Cable
AppleCare Protection Plan
Accessories
AirPort Express Base Station
AirPort Extreme Base Station
Apple Wireless Keyboard
Apple Wireless Mouse
Apple USB Modem
Apple 8x DVD-R Media Kit
.Mac Subscription
iWork
1GB = 1 billion bytes; actual formatted capacity less.
Requires adaptor, sold separately.
Wireless Internet access requires AirPort Express or AirPort Extreme Base Station and Internet access (fees may apply). Some ISPs are not currently compatible with AirPort.
Weight varies by configuration and manufacturing process.
Intel and Intel Core are trademarks or registered trademarks of Intel Corporation or its subsidiaries in the United States and other countries.