Expansion

PCI Express

Storage

Memory

Easy I/O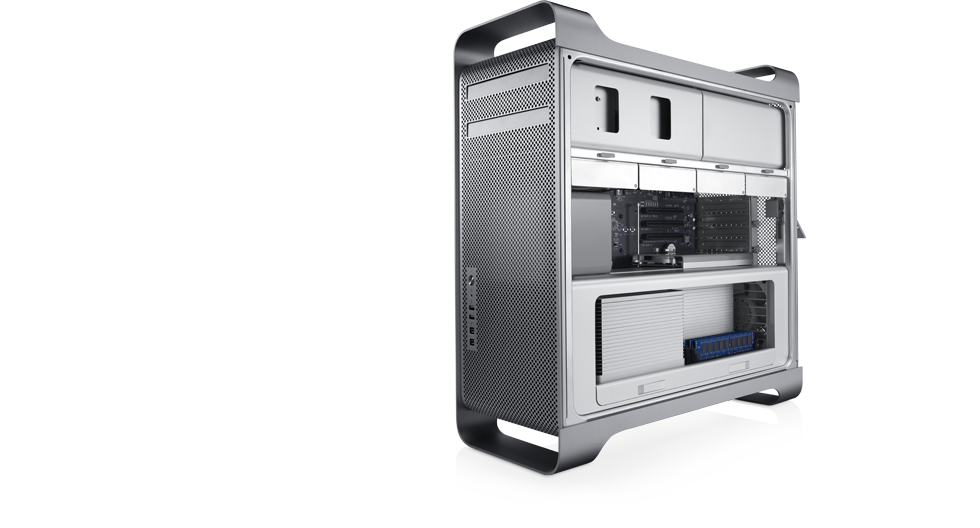 Expansion made easy.
The redesigned interior of the new Mac Pro feels like the well-organised workstation it is. No rat's nest of components here. You don't need to turn the system on its side or struggle to reach into awkward spaces to make changes. Just remove the side panel for instant, easy access to everything. Slide out the processor tray to add memory. Slide out hard drive bays to add storage. Slide a simple bar to change up to four expansion cards at once. And with plenty of I/O ports both front and back, you'll have room for all your external devices.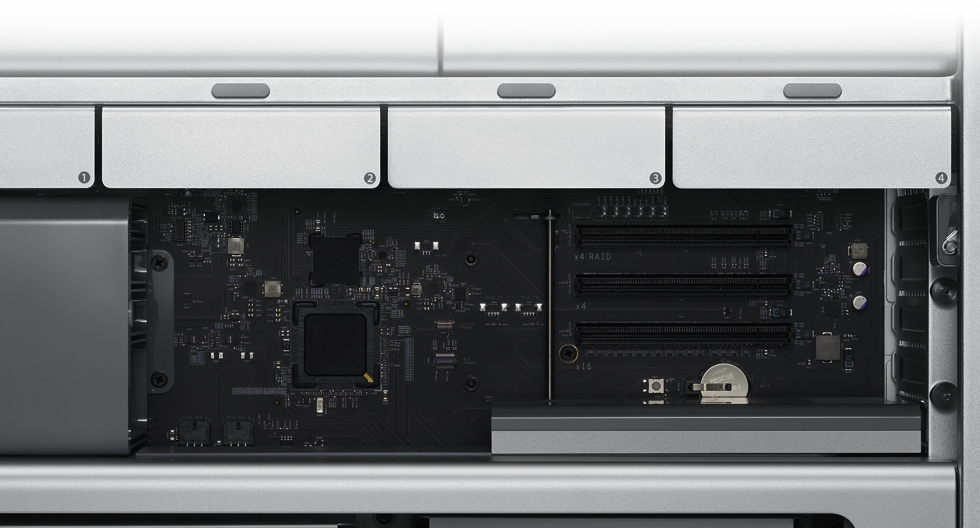 Tool-less PCI.
When it's time to upgrade, a quick slide of the retention bar frees up the four expansion card slots for easy access. Thanks to a thumbscrew PCI bracket, you can swap out cards without any tools. All four slots are now PCI Express 2.0 for up to twice the performance of the previous generation. And since the graphics slot in the Mac Pro is double-wide, your graphics card won't cover an adjacent slot.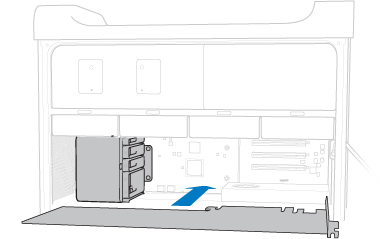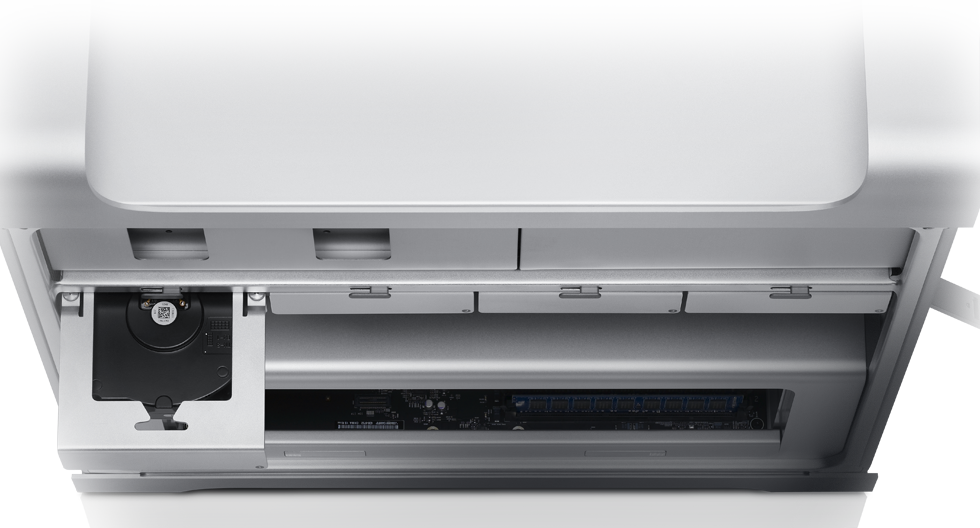 Slide-in storage.
The Mac Pro comes with four 3.5-inch internal hard drive bays for an enormous amount of internal storage — up to 4TB.* The bays are direct-attach and cable free, so it's easy to add or remove drives. Just attach the drive carrier to a Serial ATA 3Gb/s drive and slide the drive into place. There are no connectors or cables to contend with. Lock the drives with the side door latch and you're done.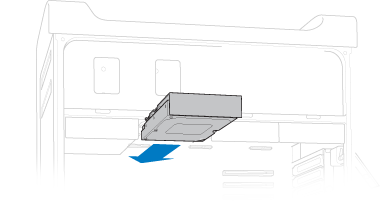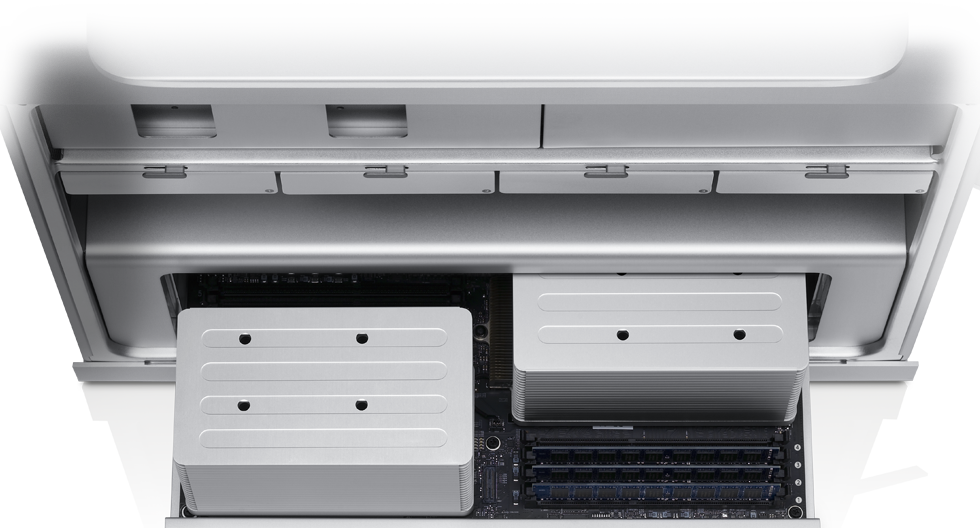 Snap-in memory.
Install more memory in your Mac Pro in a snap. Literally. The redesigned interior lets you slide out the processor tray in one smooth motion, then simply snap new memory into place. You don't have to dig around inside the computer or wrestle with wires or cables. The quad-core Mac Pro offers four slots that support up to 8GB of 1066MHz DDR3 ECC SDRAM, while the 8-core Mac Pro offers eight slots that support up to 32GB.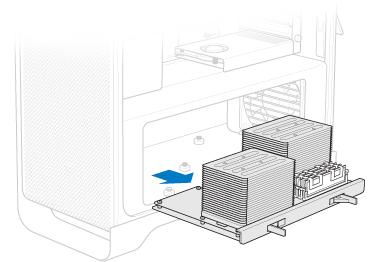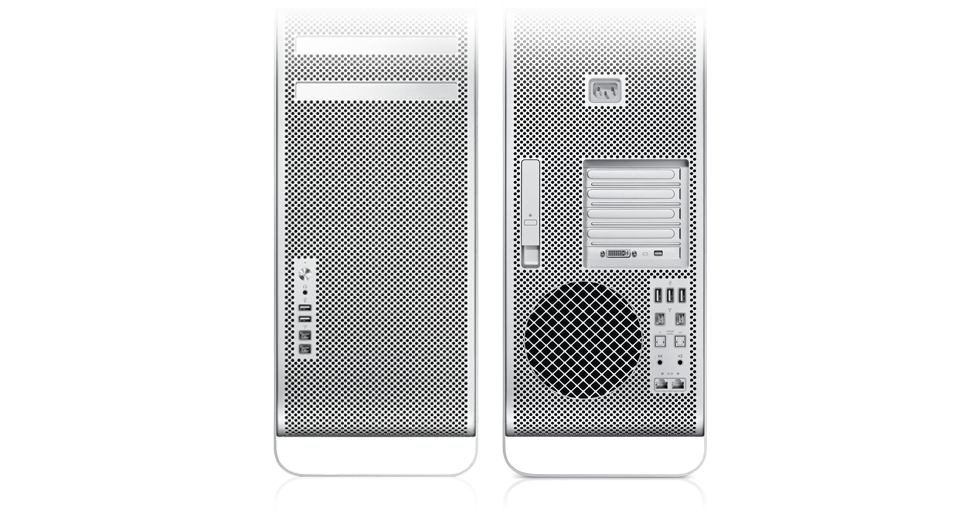 Front and back I/O.
There are plenty of places to connect external devices to your Mac Pro. You'll find two FireWire 800 ports, two USB 2.0 ports and a headphone minijack right up front — where it's more convenient to connect storage, multimedia devices and high-speed peripherals.
And there are even more ports on the back: three USB 2.0, two FireWire 800, optical audio in and out, analog audio in and out, and dual Gigabit Ethernet ports.