Economies of scale
Whether data storage operations are located in San Francisco or Singapore, London or Lisbon, Tokyo or Toronto, the fact is that real estate costs eat up a significant portion of IT budgets. Given the cost of office space in metropolitan areas, density is the name of the game. That's why intelligent industrial design has been such a big part of Apple's rack-optimized server strategy, with the overriding design goal of packing the greatest possible amount of computational power into the smallest possible amount of space.

The 19-inch rack-optimized 1U enclosure is just 1.75 inches tall. It packs nearly 800 gigaflops of processing power and over 30 terabytes of internal disk space in an industry-standard 42U rack.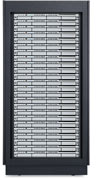 How the Xserve stacks up
Having stunned the industry and confounded skeptics by fitting a supercomputer into a 1-inch-thick notebook, Apple's design and engineering team relished the tough new challenge posed by customers like yourself: design a 1U rack-optimized server that can be stacked 42-deep in an industry standard rack. Xserve is the result.

For a start, Apple designers created a base unit that supports nearly double the storage the closest competition offers: 720GB for Apple versus 438GB for the other guys. So right out of the box, Xserve systems stacked in a standard 42U rack can hold a staggering 30 terabytes of data. Which means that, depending on where your data center is located, your Xserve systems can help pay for themselves with what they save you in office space. This intelligent approach to industrial design manifests itself in every aspect of Xserve, from accessibility and serviceability to ease of installation.





You can tell how your Xserve systems are doing just by glancing at them. Xserve gives you continuous visual feedback, with green, yellow and red lights indicating system status and blue lights for activity.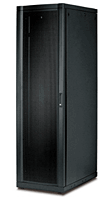 Fits in with what's out there
Xserve fits into all types of industry-standard racks, so you can use what you already have or buy new racks "off-the-rack" to meet your specific needs. There's no need for a special "Apple rack."

Xserve supports racks that meet the specifications of the American National Standards Institute (ANSI)/Electronic Industries Association (EIA) standard ANSI/EIA-310-D, International Electrotechnical Commission (IEC) 297, and Deutsche Industrie Norm (DIN) 41494. You can install the server in any of several types of racks, including open four-post rack (19 inches wide and 24, 26 and 29 to 36 inches deep) and two-post telco rack (19 inches wide).

Rackmounting is easy
You'll find the necessary hardware in the box, right down to the last thumbscrew. That includes rack rails with sliders, mounting support for industry-standard four-post racks and telco center-post racks, and complete setup instructions. If you need to replace a server component, no problem. Each server unit slides out of the rack like a drawer, and the cable management arm allows the cables to travel with the system. Xserve is designed for instant access to drives, PCI cards, blowers and power supply — no tools required. In fact the only tool that doesn't come in the box with Xserve (and that you'll need for rackmounting your servers) is a medium-sized Phillips-head screwdriver.