Inner space
Xserve is designed to hold up to four 60GB or 180GB Apple Drive Modules. Do the math: These Apple Drive Modules give the Xserve an internal storage capacity of up to 720GB — nearly three-quarters a terabyte of data per machine. This means you can store more than 30 terabytes of information per 42U rack.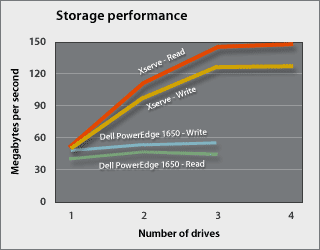 Unlimited scalability
Easy-to-install hard drive modules make it a snap to expand Xserve systems to meet your growing storage needs. And because each drive operates on an independent ATA/133 bus and connects to a high-speed I/O system, the Xserve storage subsystem scales up without compromising performance.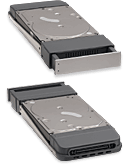 Apple Drive Modules
Pop four 60GB ATA/133 or 180GB ATA/100 Apple Drive Modules into your Xserve systems and you can keep expanding your storage space. These drive modules use sophisticated hot-plug connectors called single connector attachment (SCA II), letting you add more storage without bringing down the server. Just put in a new Apple Drive Module at any time and it's immediately available to users. The Apple Drive Modules feature a push-handle locking mechanism that holds them firmly in place after insertion. Integration with the keylock prevents them from being removed or dismounted when locked.

Apple Drive Modules use 7200rpm hard disk drives. Each controller has an independent Ultra ATA/133 bus, an arrangement that allows maximum individual drive performance without choking the throughput of the other drives. The ATA drive subsystem has a high-bandwidth I/O bus that minimizes bottlenecks, even when all four drives are engaged at once.



Monitoring drive health
Remote monitoring, diagnostics and alerting capabilities keep your servers up and running. The server software reads SMART (Self-Monitoring, Analysis and Reporting Technology) data from each hard drive. The stream of SMART data enables the drive to monitor and report its own degradation, and lets the operating system warn the administrator of a potential failure — giving you an opportunity to back up critical data and replace the hard drive before a failure occurs.



Xserve RAID
A modular storage solution designed for the Xserve line of servers, Xserve RAID is Apple's first ever external hardware RAID product. RAID (for redundant array of independent disks) protects data by maintaining duplicate data on different hard drives. Xserve RAID takes that to the next level by combining mind-boggling storage capacity with outstanding performance on striped arrays, as well as stellar disk management and monitoring tools to give you unbeatable value for money. In effect, Xserve RAID makes it simple — and economical — to massively expand your storage configuration as your data warehousing requirement grow in the months and years ahead.

Xserve RAID holds up to 2.52 terabytes in a rack-mounted 3U (5.25-inch) enclosure, with a 2Gb Fibre Channel interface for virtually unlimited, high-availability external storage. A high density rack-mounted RAID system offering data protection leaps ahead of anything currently available on the Mac platform, Xserve RAID provides not only excellent data integrity with low cost-per-gigabyte storage, but also significant throughput improvements over internal hard disk drives.

The big squeeze


In a nifty feat of engineering, Apple squeezed fourteen 180GB ATA/100 hard disk drives into a 17.5-inch-wide space to achieve Xserve RAID's enormous storage capacity: 14x180GB=2.5TB, or three times the capacity of the Xserve's internal storage.

Scorchingly fast throughput
Xserve RAID's high throughput is achieved by placing each drive on a separate interface, and by using two storage processors for 14 drives (7 drives per processor). Xserve RAID delivers 209 megabytes per second of sustained throughput — more than enough to saturate the Ethernet ports on two servers, or to provide seamless high-definition digital video record and playback with Final Cut Pro.

Xserve RAID uses high-speed 2Gb Fibre Channel technology — with a thin copper cable that achieves data transfer speeds of up to 200MB per second — to connect to its host devices. An industry-standard interconnect technology, Fibre Channel provides significant bandwidth and greater flexibility. Up to 126 devices can connect with each other — and at incredible distances (up to 500 meters).

Apple Fibre Channel PCI Card


Xserve RAID connects to a host Xserve or Power Mac G4 system using the dual-port 2Gb Apple Fibre Channel PCI Card. This high-speed storage interface offers dedicated bandwidth with a throughput of up to 400MB/s. The Fibre Channel interconnect technology supports multiple application environments, using point-to-point, loop and fabric topologies. The PCI card comes with two 2.9-meter copper cables. For connecting over longer distances — up to 500 meters — Apple's card accepts SFP (Small Form Factor Pluggable) optical transceivers for use with fiber-optic cables.